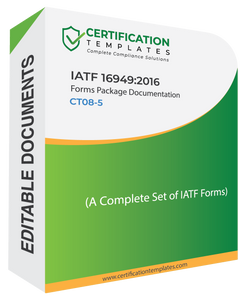 Digital Download
Our documentation is provided as a digital download.
Save Time & Money
You will save time and cost in your system implementation.
Easy to Use & Personalise
Easy to customize and allows you to add your company logo and brand.
Created by Experts
Our documents are developed by industry experts from standards.
The IATF 16494:2016 forms that we offer at Certification Templates contain a complete set of 52 forms for system's good practice. The forms help to implement standard and understand the implementation process.
The Document Pacakge include forms as listed below:
Master Document List
Software Inventory Spreadsheet
Document Change Request Form
Document Revision Checklist
Quality Records table
QMS Measuring, Monitoring and Analysis Table
Key Process Master List
Product Realization Measuring, Monitoring and Analysis Table
Quality Policy
Organization Chart
Action Plan For Training Form
Group Training Sign In
Job description form
Equipment Problem Report
Equipment Maintenance Record
Quality Planning table Form
Process Flow Diagram
Client Assessment Memo
Design Plan
Design Review
Design Change Form
Design Plan
Design Review
Design Change Form
Supplier Quality Report
Supplier Corrective Action Request
List of Acceptable Sources
Purchase Requisition
Purchase Order
Business Agreement – Contract
Product Realization Measuring, Monitoring and Analysis Table
Process Routing Sheet – Summary
Process Routing Sheet – Detail
Product Realization Measuring, Monitoring and Analysis Table
Process Validation Worksheet – paint example
Traceability Serial Number Log
Customer Property Control Log
Storage Inspection Report
Stockroom Inventory Log
Equipment List
Customer Satisfaction Survey
Internal Audit Plan
Internal Audit Report
Applicable Procedures by Work Area
Audit Point Checklist
Process Capability Study Schedule
Product Realization Measuring, Monitoring and Analysis Table
Rejected Material / Disposition Report – NCR
Frequency Distribution Report
Root Cause Analysis Action Plan
Corrective/Preventive Action Request
Corrective/Preventive Action Request
Method of Delivery of IATF 16949:2016 Form Documents
The IATF 16949:2016 form documents commencing for 120 USD will be delivered via email in 24-48 hrs subject to payment confirmation.
The IATF 16949:2016 forms help to implement the IATF Quality Management System in a controlled manner.
Forms were designed to integrate with Quality manual and Procedures.
A successful procedure is evaluated by the data record in the forms.
The forms has ready-to-use templates that can save much of your time and cost while preparing the document.
The forms are prepared in way that it integrates procedures and quality manual.
The forms has been verified and evaluated at various levels by our expertise during the preparation of the document.
Achieving compliance and certification made easy with these document package. Here are some of the benefits of using our documents package IATF 16949:2016 certification.
Time-Saving Documents
Using our high-quality IATF 16949:2016 documents, you can save a lot of your time while preparing the quality system documents that focus on implementing compliance within your business.
Cost Saving Templates
Business certified to the desired standard with this IATF 16949 templates which are available at much less cost compared with that of the cost of one day's consultancy.
Created by Experts
Our IATF 16949 document package has been created by highly experienced and qualified experts, who have detailed knowledge of their respective fields and hence those documents are highly valued.