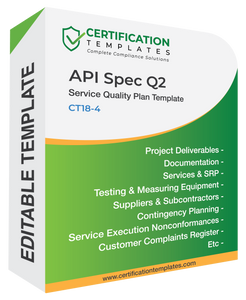 Digital Download
Our documentation is provided as a digital download.
Save Time & Money
You will save time and cost in your system implementation.
Easy to Use & Personalise
Easy to customize and allows you to add your company logo and brand.
Created by Experts
Our documents are developed by industry experts from standards.
Save Time, Money, and Easy Define, Measure, and Document The Project Related Steps & Improvements With Our API Spec Q2 Service Quality Plan Template. Service Supply Organizations Are Required to Develop a Quality Plan to Control The Execution of Service or the Use of Service Related Products.
Ensure Project Details are Defined and Communicated to Entire Stakeholders, in order to Minimize The Risks and Eliminate Operational Downtime With Our API Spec Q2 Service Quality Plan Template. The API Q2 SQP Template Required for Organization to Implement and Control The Delivery of Products or Services to The Oil and Gas Industry.
Job Information
The Template Includes Scope of The Project, General Information, Customer Details and Schedule.
Project Deliverables
Identify, Define, and Measure of the Required Deliverables of the Project.
Documentation
Maintain Required Documentation for Customer, Legal & Compliance Requirements and Activities.
Activities & Responsibilities
This Section Identifies The Minimum Integrity Assurance Activities and Responsibilities for The Service Execution.
Services & SRP
Identify and Define All Critical Services & Applicable Service Related Product (SRP).
Service Equipment Inventory
This Template Describes The Equipment Information, Inventory Tracking, and Quality.
Testing, Measuring and Detection Equipment
This section helps to manage test equipment and calibration activities.
Suppliers and Sub-Contractors
Identify and manage external services and service provider documents and product details.
Contingency Planning
Identify Anticipated Issues and Develop Action Plan to Minimize The Incident Impacts.
Risk Management
This Section Helps to Identify and Mitigate Risks With Responsible.
Impacting Alerts
Identify & Measure The QHSE Related Alerts That Impact The Service Execution.
Service Quality Plan Approval and Revision Log
Develop and Identify an Effective Plan, Process, and Revision Details to Achieve Quality Objectives.
Product Download of API Spec Q2 Service Quality Plan
API Spec Q2 Service Quality Plan Template Commencing At a Cost of $300 USD. The Template Will Be Delivered Through Digital Within 6 to 8 Hrs Subject to Payment Confirmation.
Compliant With
API Spec Q2 Standard (Quality Management System).
Fully Editable Template
You Can Adapt or Amend Any Document By Entering Specific Information for Your Organisation.
Product Download
API Q2 Service Quality Plan Are Available To Download Via Digital Subject To Payment Confirmation.
Built for Globally Accepted
Our API Q2 Service Quality Plan Designed for Globally Accepted and Created By Our Industry Expert.
Supported Format
Microsoft Office 2007 / 2008 / 2010 / 2011 / 2013 / 2016
Optimised For
Small, Medium, and Large-Sized Organisations.
Online Implementation Support
Our API Spec Q2 Certification Consultant Will Assist You Through Implementation Online. The Cost Will Be Quoted As Per Mentioned in The Value Added Services.