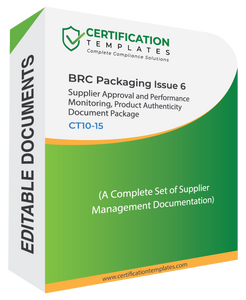 Digital Download
Our documentation is provided as a digital download.
Save Time & Money
You will save time and cost in your system implementation.
Easy to Use & Personalise
Easy to customize and allows you to add your company logo and brand.
Created by Experts
Our documents are developed by industry experts from standards.
BRC Packaging supplier management document package that we offer at Certification Templates helps to meet the requirements of BRC Packaging Issue 6 Standard. The management of suppliers is now required for four different section in the BRC packaging standard (issue 6).
The package contains record forms that help to control the supplier approval and product authenticity.
The package is useful for basic hygiene and high hygiene sites irrespective of packaging types.
Product authenticity meeting the requirments for a vulnerability assessment is included along with material and supplier risk assessment. Hence it helps the user saving time for preparing a methodlogy and scoring system for them.
This document package includes
Supplier Management and Incoming Goods Procedure Document.
Material and Supplier Risk Assessment Spreadsheet.
Packaging, Laundry, Lab, Consultant, Storage, and Distribution SAQ.
Packaging Storage and Distribution Audit Form.
Supplier Auditing Record Form.
Incoming Goods Record and Work Instruction
Product Acceptance Matrix Form.
Supplier Non-Conformance Record and Log.
Supplier Delivery Non-Conformance Log.
Service Supplier Approval, Monitoring Spreadsheet and Review Record.
Product Vulnerability Assessment Form and Information Gathering Record Form.
Review Record Form.
Method of Delivery of BRC Supplier Approval and Performance Monitoring, Product Authenticity Document
On order value more than $500, the product will be delivered via email in 48-72 hrs subject to payment confirmation and call verification.
The Documents were written in English and they are user friendly.
They are designed by experienced experts in BRC Packaging Standard.
The document package comes with the full instruction set.
They are customizable.
Achieving compliance and certification made easy with these kinds of documents. Here are some of the benefits of using our document package for BRC Supplier Management
Time Saving Documents
Using our high-quality BRC documents, you can save a lot of your precious time while preparing the documents that focus on implementing compliance within your business.
Cost Saving Templates
Business certified to the desired standard with this BRC templates which are available at much less cost.
Created by Experts
Our template has been created by highly experienced and qualified experts, who has detailed knowledge of their respective field and hence those documents are highly valued.