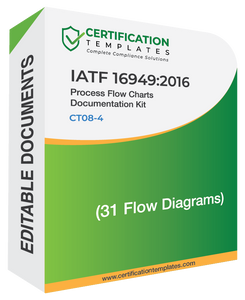 Digital Download
Our documentation is provided as a digital download.
Save Time & Money
You will save time and cost in your system implementation.
Easy to Use & Personalise
Easy to customize and allows you to add your company logo and brand.
Created by Experts
Our documents are developed by industry experts from standards.
The IATF 16494: 2016 flow chart document package that we offer at Certification templates covers a sample copy of the flow charts. The flowchart helps to implement the standard and helpful for understanding the implementation process.
The document package includes 31 Flowcharts created in Visio, SmartDraw, and pdf format
Clause 4-Context of the Organization
QMS-Process-Interactions
Clause 5-Leadership
Business Process Map
Management Customer Focus
Operating Principles
Organization Chart
Clause 6- Planning
Planning Cycle
P-D-C-A Objectives Planning
Clause 7-Support
Resource Management
Control- Documented Information
Clause 8-Operation
Process Flow Chart
Production- Quality Plan
Customer Processes
Design Development
Stage Gate Idea-to-Launch
Design Develop-Processes
External Providers-Purchasing
Operations Production Service
Contributors 5Ms
Process Control
Process Steps-Control Points
Identification Traceability
Post Delivery Support
Clause 9-Performance Evaluation
Clause 10-Improvement
Corrective Action
Continual Improvement
Method of Delivery of IATF 16949:2016 Templates
The IATF 16949:2016 templates commencing for 90 USD will be delivered via email in 24-48 hrs subject to payment confirmation.
The IATF 16949:2016 flowcharts are created in MS Visio and SmartDraw. These flowchart templates can be exported to MS Word, PowerPoint, Excel.
The flow charts are available in pdf format hence before choosing the software to draw or edit you can view the flow chart
The flow chart has ready-to-use templates that can save much of your time and cost while preparing the document.
It includes 7 primary flow chart can integrate with SMS document packages which contains the total summary of SMS document.
The remaining 14 flow charts are based on the primary flow charts that gives us a better understanding of how the system meets the requirements.
The flow chart has been verified and evaluated at various levels by our expertise during the preparation of the document.
Achieving compliance and certification made easy with these documentation kit. Here are some of the benefits of using our documents kit IATF 16949:2016 certification.
Time-Saving Documents
Using our high-quality IATF 16949:2016 documents, you can save a lot of your time while preparing the quality system documents that focus on implementing compliance within your business.
Cost Saving Templates
Business certified to the desired standard with this IATF 16949 templates which are available at much less cost compared with that of the cost of one day's consultancy.
Created by Experts
Our IATF 16949 document kit has been created by highly experienced and qualified experts, who have detailed knowledge of their respective fields and hence those documents are highly valued.