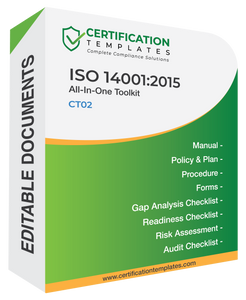 Digital Download
Our documentation is provided as a digital download.
Save Time & Money
You will save time and cost in your system implementation.
Easy to Use & Personalise
Easy to customize and allows you to add your company logo and brand.
Created by Experts
Our documents are developed by industry experts from standards.
Accelerate the implementation of ISO 14001:2015 requirements with our pre-written and editable ISO 14001 toolkit. Globally accepted and 100% meets the standard requirements with more than 85 customisable documents. The ISO 14001 toolkit provides a set of plans, policies, procedures, forms, audit checklist, and templates that enable you to implement and achieve ISO 14001 certification quickly and efficiently.
With this ISO 14001 Toolkit, you get fully completed documents that will help you maintain the right direction when preparing for ISO 14001 certification and guide you to streamline the entire implementation project.
The All-In-One ISO 14001 Toolkit Contains:
85 plus customized and pre-written documents & templates;
ISO 14001:2015 context, plans, policies, procedures, formats, audit checklists, and etc;
Created and developed by the global experts of ISO 14001 standard;
Fully customizable to any size of organisation;
Templates with instructions minimize the risk of errors, prevent problems, and measure performance.
The ISO 14001 toolkit is designed by internationally accredited and certified lead auditors.
The Following Documents Are Included With The Toolkit:
LEVEL 1
Context:
This document describes about the EMS Context, Requirements and Scope for the ISO 14001 Environmental Management System.
Manual:
The manual document contains 10 chapters and 04 annexure files that explain on how a user can implement ISO 14001:2015 system in an organization.
Plans:
The documentation section includes 06 files that meet the requirements and set the process of ISO 14001:2015.
Policies:
It includes 01 policy that are used to make the commitment to the system.
LEVEL 2
Procedures:
The documentation includes 09 procedures which helps to implement an effective environmental management system within the organization as per the ISO 14001:2015 standard requirements.
Processes:
This section contains 08 documents for environmental management system to process the input and output interactions.
LEVEL 3
SOPs:
This section includes 07 standard operating procedures that help you to setup the environmental management process and control for good work practices.
LEVEL 4
Formats:
It includes 35 formats that are required to maintain records as well as establish control and create system in the organization. A set of formats provide evidence of the fulfilment of standard requirements.
Templates:
It includes 06 templates that cover all the ISO 14001:2015 details.
Process Flow Charts:
The document section includes 05 process flow charts on environmental management system that are used for the purpose process mapping.
Presentations:
It covers overview and awareness of environmental management system, benefits, process, and summary of overall system in ISO 14001:2015 standard.
LEVEL 5
Audit Checklist
This section includes clause wise audit checklists that help you to improve the better ISO 14001:2015 environmental management system.
Everything you need to implement by using our high-quality and pre-written ISO 14001 Toolkit. Get a free preview of our ISO 14001:2015 toolkit to understand the list of environmental management system documents and sample files. Achieving compliance and certification made easy with our all-in-one ISO 14001 Toolkit.
Product Download of ISO 14001:2015 Toolkit
Our ISO 14001 toolkit commencing at a cost of $450 USD. The kit will be delivered through digital within 4 - 6 hrs subject to payment confirmation.
Compliant With
ISO 14001:2015 standard (Environmental Management System).
Fully Editable Documentation
You can adapt or amend any document by entering specific information for your organisation.
Acceptable for ISO 14001 Certification Audit
All documents required by ISO 14001:2015 standard are included, plus other optional procedures and templates that are most commonly used.
Product Download
ISO 14001 toolkit are available to download via digital subject to payment confirmation.
Built for Globally Accepted
Our ISO 14001 toolkit designed for globally accepted and created by our industry expert.
Supported Format
Microsoft Office 2007 / 2008 / 2010 / 2011 / 2013 / 2016
Optimised For
Small, medium, and large-sized organisations.
Online Implementation Support
Our ISO 14001 certification consultant will assist you through implementation online. The cost will be quoted as per mentioned in the value added services.
Achieving compliance and certification made easy with these ISO 14001 toolkit. Here are some of the benefits of using our toolkit for ISO 14001:2015 certification:
Time Saving Documents
Using our high-quality ISO 14001:2015 documents, you can save a lot of your precious time while preparing the environmental management system documents that focus on implementing compliance within your business.
Cost Saving Templates
Business certified to the desired standard with this ISO 14001 templates which are available at much less cost compared with that of the cost of one day's consultancy.
Created By Experts
Our ISO 14001 toolkit has been created by highly experienced and qualified ISO experts, who has detailed knowledge of their respective field and hence those documents are highly valued.
Meet Compliance Requirements
Our ISO 14001 certification kit enables you to change the contents and modify the documents as per your industry's requirements. These documents adhere to 100% compliance requirements.
Customized Documents
Our documents are customizable where the client can place their own logo, brand name, and other detailed information at required places to set up the document at specified standard requirements.
Ensure a Consistent Audit Approach
An ISO 14001 audit question helps you to conduct a perfect internal audit and monitor the implementation of the environmental management system.
Better Implementation of The System
Many organizations are implementing their system to ISO 14001:2015 and gaining benefits of certification by improving their operation in day-to-day business.