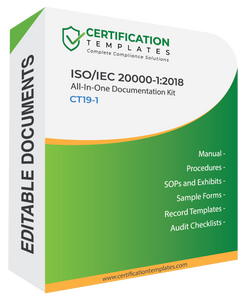 Digital Download
Our documentation is provided as a digital download.
Save Time & Money
You will save time and cost in your system implementation.
Easy to Use & Personalise
Easy to customize and allows you to add your company logo and brand.
Created by Experts
Our documents are developed by industry experts from standards.
The contents of the ISO 20000:2018 documentation kit which we offer at Certification Templates, includes more than 150 files as listed below:
ISO 20000 Manual: ISO 20000 manual includes 14 files which gives details clause by clause of how ISO 20000-1:2018 system is implemented.
ISO 20000 Plan: The documentation kit provides 2 IT SMS plan which meets the requirement for certification.
ISO 20000 Procedures: It includes 20 procedures for IT service management to meet system requirements.
ISO 20000 Policies: It includes 14 policies that are used to make the commitment to the system.
ISO 20000 Standard operating procedures: To make a best service management system within an organization the document kit is provided with 09 standard operating procedures
ISO 20000 Job Description: The organization structure is made by detail authority and responsibility described in the job description.It includes 24 files.
ISO 20000 Forms/ Record templates: It includes 69 documents. Quick documentation is made with the help of blank samples, few filled templates, plans and forms.
ISO 20000 Audit Checklist: The documentation kit includes more than 500 clause wise auditing questions
Master Matrix sheet: The kit includes the matrix sheet that describes the linkage of all documents against the IT SMS system which gives the document reference for easy understanding to users.
Method of Delivery of ISO 20000:2018 Documentation Kit
On order value more than $500, the product will be delivered via email in 48-72 hrs subject to payment confirmation and call verification.
Our ISO 20000:2018 documents are prepared in English.
The soft copy of the document will be provided on the purchase that can be modified as per user requirements
The documentation kit we provide is user friendly that compile with reference to ISO 20000:2018 requirements.
The ISO 20000:2018 documents has been developed by our team of experienced ISO 20000 consultant and auditors.
Document kit includes ISO 20000 manual, procedures, SOPs, formats & audit checklists, which cover all documentation requirements.
Achieving compliance and certification made easy with these documentation kit. Here are some of the benefits of using our documents kit for ISO 20000:2018 certification:
Time Saving Documents
Using our high-quality ISO 20000:2018 documents, you can save a lot of your precious time while preparing the IT SMS system documents that focus on implementing compliance within your business.
Cost Saving Templates
Business certified to the desired standard with this ISO 20000 templates which are available at much less cost compared to that of the cost of one day's consultancy.
Created by Experts
Our ISO 20000 document kit has been created by highly experienced and qualified ISO experts, who has detailed knowledge of their respective field and hence those documents are highly valued.
Meet Compliance Requirements
Our ISO 20000 certification kit enables you to change the contents and print as many copies as you want. The end users can modify the documents as per your industry's requirements. These documents are adhered to 100% compliance requirements.
Customized Documents
Our documents are customized where the client can place their own logo, brand name and other detailed information at required places to set up the document at specified standard requirements.
Ensure a Consistent Audit Approach
ISO 20000 audit questions helps you to conduct a perfect internal audit and to monitor the implementation of quality system.
Better Implementation of The System
Many organizations are implementing or upgrading their own IT Service Management System to ISO 20000:2018 and gaining benefits of certification in day-to-day business.