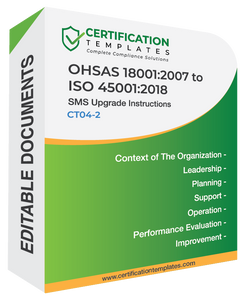 Digital Download
Our documentation is provided as a digital download.
Save Time & Money
You will save time and cost in your system implementation.
Easy to Use & Personalise
Easy to customize and allows you to add your company logo and brand.
Created by Experts
Our documents are developed by industry experts from standards.
The contents provided in OHSAS 18001:2007 to ISO 45001:2018 SMS Upgrade Instructions documentation kit includes pages that contains detailed SMS upgrade instructions.
The documentation kit for a management system generally includes Manuals, Procedures, SOP's, Forms, Templates, Process Approach, Flow Charts, Audit Checklist etc.,
The versions of OHSAS 18001:2007 and ISO 45001:2018 documents has the common requirements categorized in to different clauses on their own way.
Requirements in the OHSAS 18001:2007 are described into clauses from 4.1 to 4.6 that includes General Requirements, OH&S Policy, Planning, Implementation and Operation, Checking and Management review.
ISO 45001:2015 requirements are described in the clauses from 4 to 10 as Context of Organization, Leadership and Worker Participation, Planning, Support, Operation, Performance Evaluation and Improvement.
Essentially, the documentation package for the management system contains:
Manual to introduce the documented information required for ISO 45001:2018.
A group of procedure/system documents for your OHSMS with updates to reflect a document numbering system related to the new clause numbers and to incorporate the upgrades for ISO 45001:2018 requirements,
A group of forms and attachments needed for the documented information and systems.
Method of Delivery of OHSAS 18001:2007 to ISO 45001:2018 SMS Upgrade Instructions Document
The SMS Upgrade Instructions documentation kit commencing at 240 USD will be delivered via email in 24-48 hrs subject to payment confirmation.
The OHSAS 18001:2007 to ISO 45001:2018 SMS Upgrade Instruction document kit is written in English for easy understanding. It outlines what areas of the current system in an organization needs improvements to meet ISO 45001:2018 Standard.
The SMS Upgrade Documentation Kit Includes the detailed instructions that focuses on the area of the documentation required for ISO 45001:2018.
The clauses in bold numbers in the left-hand column have key changes from 2007 to 2018.
The intent of the main clauses is shown in blue font,
The text in italics in the 2nd right hand column indicates where requirements were included in previous OHSAS 18001:2007.
Use a copy of the ISO 45001:2018 standard along with this instruction to pinpoint for your organization the areas that need attention.
Make notes and add comments in the space available to the right and the left of the column for reference documentation.
Use the upgrade checklist section on the right side of the table to assign the responsibility for the upgrade and to follow up on its completion.
Throughout the 18-page checklist, reference is made to documented information and the typical procedures and P-xxx numbers that can be found in our complete OH&S documentation package
Achieving compliance and certification made easy with these documentation kit. Here are some of the benefits of using our document kit for ISO 45001:2018 upgradation:
Time Saving Documents
Using our high-quality OHSAS 18001:2007 to ISO 45001:2018 SMS Upgrade Instructions documentation kit you can save a lot of your precious time while preparing the quality system documents that focus on implementing compliance within your business.
Cost Saving Templates
Business certified to the desired standard with this ISO 45001 templates which are available at much less cost compared with that of the cost of one day's consultancy.
Created by Experts
Our document kit has been created by highly experienced and qualified ISO experts, who has detailed knowledge of their respective field and hence those documents are highly valued.