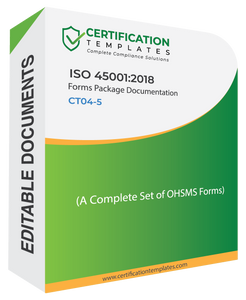 Digital Download
Our documentation is provided as a digital download.
Save Time & Money
You will save time and cost in your system implementation.
Easy to Use & Personalise
Easy to customize and allows you to add your company logo and brand.
Created by Experts
Our documents are developed by industry experts from standards.
ISO 45001:2018 forms that we offer at Certification Templates include more than 57 custom editable forms that has references in the procedures. The forms help to implement the ISO 45001 standard and also it is very easy to understand the implementation process.
Occupational Health and Safety Management System (OHSMS) document Package is fully integrated. it contains related forms, Master list of documents list.
The ISO 45001:2018 standard replaces OHSAS 18001:2007 and its contents were similar to ISO 14001:2015 and ISO 9001:2015.
Method of Delivery of ISO 45001:2018 Form Documents
The ISO 45001:2018 form documents commencing for 90 USD will be delivered via email in 24-48 hrs subject to payment confirmation.
The ISO 45001:2018 form documents are written in English for easy understanding, and they are customizable as per their industry ISO 45001:2018 standards.
The form documents are fully integrated with other management systems to work together.
The documents include ready-to-use forms that can save much of your time and cost while preparing the document.
OHSMS is carefully designed and well organized the management process to work effectively and for better improvement.
In the document package assist you in customizing based on business requirements. The highlighted text was to be considered as revisions or information specific to company.
Documents were numbered for the effective control of documented information.
The documents have been verified and evaluated at various levels by our expertise during the preparation of the document.
Achieving compliance and certification made easy with these document package. Here are some of the benefits of using our documents package for ISO 45001:2018 certification:
Time-Saving Documents
Using our high-quality ISO 45001:2018 forms, you can save a lot of your precious time while preparing the Management system documents that focus on implementing compliance within your business.
Cost Saving Templates
Business certified to the desired standard with this ISO 45001 documents which are available at much less cost compared to that of the cost of one day's consultancy.
Created by Experts
Our ISO 45001 document package has been created by highly experienced and qualified ISO experts, who has detailed knowledge of their respective field and hence those documents are highly valued.