The fastest way to implement and achieve certification with ISO 27001 toolkit
Schedule a Free Consultation
Saving your organization time, money and effort
Pre-written and editable documents for certification process
Alignment with ISO 27001:2022 certification requirements
Project tracking tools to support the implementation
Step-by-step guidance with live support
Fully optimized for small, medium, and large-sized organizations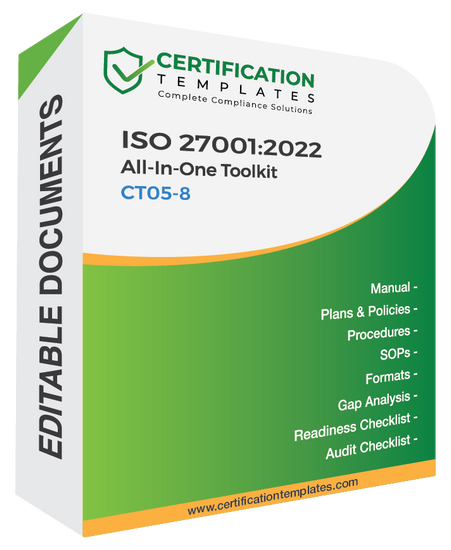 Digital Download
Our documentation toolkit is provided as a digital download.
Save Time & Money
You will save time and effort in your regulatory compliance implementation for ISO 27001:2022.
Easy to Use
Easy to customize and allows you to add your company name, logo and business information.
Free Consulting Support
We provide free online consultation for 30 minutes with no cost.
What makes ISO 27001 documentation from Certification Templates different?
With this product, you get a tool that will help you maintain the right direction when preparing for ISO 27001 certification, but also streamline the entire implementation of your ISMS project. Your complete ISO 27001 toolkit for creating an Information Security Management System. Guaranteed compliance with more than 130 pre-written and customizable documents & templates.
Comprehensive set of "ready to use documents"
Fully customizable to all companies
Acceptable for ISO 27001 certification audit
One-on-one online consultation
Unlimited email support
Built for globally accepted documents
Our documentation is verified by accredited auditors
Identify the steps needed to achieve compliance
Set up a time to speak with our ISO 27001 Experts, or just email us your question. Please note that the free consultation will be provided in English.
Book Free Consultation
ISO 27001:2022 Implementation Made Easy
You are going to get the complete ISO 27001 information security management system, every document, policy, template, process, and checklist on the store plus bonus content. We have a range of document packages to suit all needs. Find the right product for your project below:
Product Includes

ISO 27001:2022 All-In-One Toolkit
$999 USD

ISO 27001:2022 Documentation Kit
$799 USD

Manual
1 document
1 document
Plans
09 documents
09 documents
Policies
39 documents
39 documents
Procedures
25 documents
25 documents
Processes
12 documents
12 documents
SOPs
05 documents
05 documents
Formats
28 files (.doc & .xlsx)
28 files (.doc & .xlsx)
Templates
32 documents
32 documents
Gap Analysis Checklist
01 file
-
Certification Readiness Checklist
01 file
-
Project Plan
01 file
-
Presentations
02 files
-
Audit Checklist
01 document
01 document
ORDER NOW
ORDER NOW
Get ISO 27001 consultancy within your budget
Certification Templates takes you on a hassle-free and budget-friendly road to ISO 27001 compliance. It enables our clients to effectively manage their IT Governance, Risk Management and Compliance Management.
We have a well-defined implementation methodology that ensures the ISO 27001 implementation and certification will reduce cyber security risks, and security in everything that a business does.